The M Computers team became Santa's Elves
The M Computers team became Santa  and on 4 December distributed presents to the elderly in the retirement home Domu důstojného stáří in Brno.
Christmas is coming, holidays of comfort, joy, and happiness. And we would like to share the joy of our good work not only to you, our dear customers and business partners, but we would also like to share the joy with people who are often overlooked; grandmothers and grandfathers in retirement homes and similar facilities. For this reason, we chose the project Santa's Elves (Ježíškova vnoučata.).
Who did we support?
More than half of the company employees joined in and together contributed the remarkable sum of 13,600 CZK.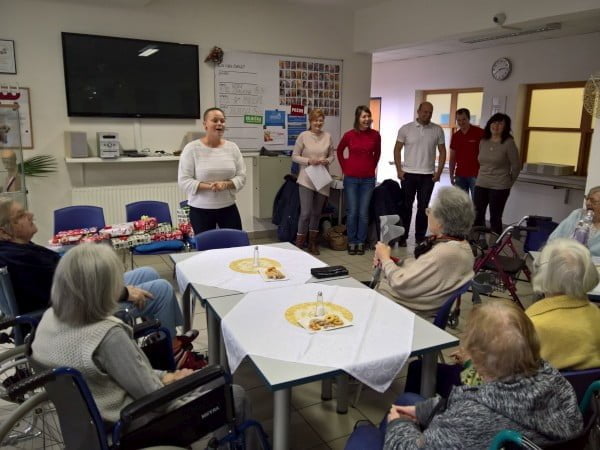 We decided that most of the money would be used to fulfil a specific wish. This wish was chosen from those listed on the project webpage. We chose the retirement home Dům důstojného stáří in Brno as our adopted cause. Their wish was for board games for their residents. Games provide senior citizens with opportunities to join a group and communicate with others, and they also improve moods, and reduce boredom and apathy. We chose the board game Sorry! for them, the games Time's Up! Family and Czechia for Trivia Buffs, plus a set of outdoor wooden dominoes, colored scarves  for exercise, and many others.
We donated the remainder of the funds towards an electric wheelchair for Mr. Zdenek and also a wheelchair for Mrs. Marie. Mr. Zdenek (aged 76 from Kromeriz) lives alone, and unfortunately cannot afford a quality electric wheelchair that costs 110,000 CZK. Mrs. Marie (aged 81, from Prague) wrote the following comment on her wish. "I always try to be self-sufficient even at my age. An electric wheelchair would allow me independent and pain-free movement throughout my home and garden".
The project was created in the autumn of 2016. In the course of her work, journalist Olga Štrejbarová realized that abandoned people made up to one third of the residents of retirement homes for the elderly. Many had not received a Christmas present in several years, and for them the holidays were a time of emptiness instead of joy. She decided to change that and thus the project was conceived.
In 2017 Czech Radio became involved in the Santa's Elves organization. They contacted hundreds of retirement homes, health facilities, and caregivers. They then broadcast a large media campaign and a series of reports on the project. There was fantastic response from listeners; far greater than even the most optimistic could have hoped for. Over 14,000 senior citizens had a much nicer Christmas last year; one full of surprises and wonder. Many of them received their first Christmas gifts in several years.
Join the project and help give senior citizens a Merrier Christmas.
Project website: www.jeziskovavnoucata.cz
https://mcomputers.cz/wp-content/uploads/2018/12/WP_20181204_14_40_42_Pro.jpg
450
600
Jitka Bláhová
https://mcomputers.cz/wp-content/uploads/2020/07/Logo_M_computers_bez_claimu_RGB_logo-2.png
Jitka Bláhová
2018-12-07 11:21:32
2019-08-11 20:14:51
The M Computers team became Santa's Elves