NVIDIA DGX-2 at IT4Innovations
On Monday 4 March we delivered NVIDIA DGX-2 computing system to the IT4Innovations National Supercomputing Center at VŠB – Technical University in Ostrava. The system is designed to tackle the most challenging artificial intelligence tasks, delivering over 2 petaFLOPs of performance for AI researchers. The ceremony was attended by Governor of the Moravian-Silesian Region Ivo Vondrák, Mayor of the City of Ostrava Tomáš Macura and Rector of VSB –Technical University of Ostrava Václav Snášel.
---
The IT4Innovations supercomputer family is growing to include NVIDIA DGX-2, which was supplied by M Computers, a Czech-based company. The National Supercomputing Center is integrating the system into its infrastructure, which supports a broad base of users from academic, research and commercial institutions from the Czech Republic and abroad.
"Our main mission is to enable Czech scientists to access high-tech technologies. This new GPU-accelerated system will allow them to keep up with the world in the field of artificial intelligence, which, together with digitization, is considered to be key to the development of society. That's why we decided to buy this unique system," said Vít Vondrák, director of IT4Innovations.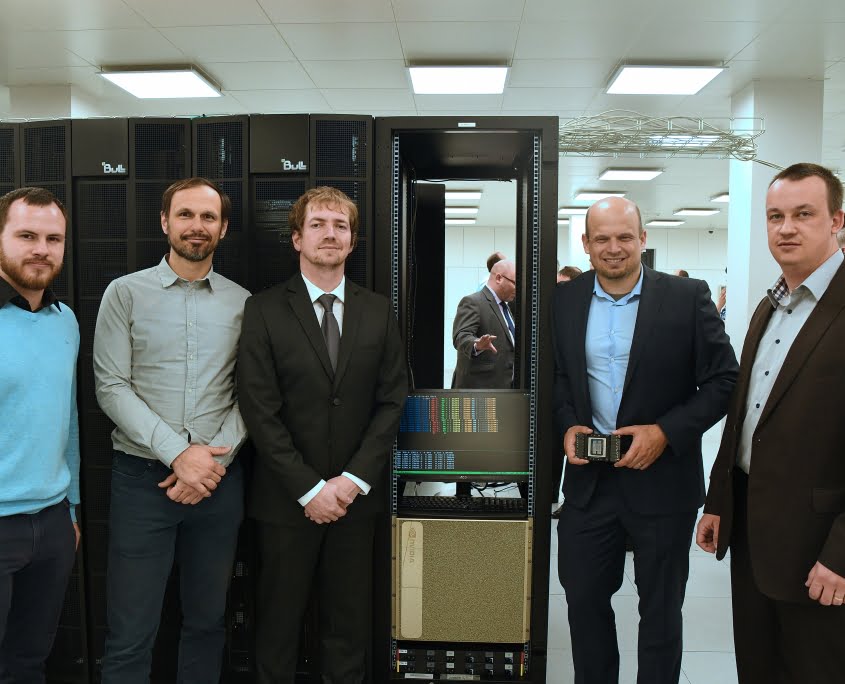 M Computers team with NVIDIA DGX-2
"The NVIDIA DGX-2 is the world's most powerful computer for AI calculations and IT4Innovations is the first institution in Eastern Europe to install this system," said Serge Palaric, vice president of enterprise at NVIDIA
NVIDIA DGX-2
NVIDIA DGX-2 is equipped with 16 of the most powerful data center accelerators — the NVIDIA V100 Tensor Core GPU. They are inter-connected with revolutionary NVSwitch technology that delivers a total bandwidth of 2.4TB/s. The systems include 512GB of HBM2 memory. NVIDIA DGX-2 also offers 30TB of internal capacity on fast NVMe SSDs. Inter-connection to the surrounding infrastructure is provided via eight 100 Gb/s Infiniband / Ethernet adapters.
One NVIDIA DGX-2 can replace 300 dual-socket servers with Intel Xeon Gold processors for deep neural network training (ResNet-50). DGX-2 is powered by the DGX software stack —  NVIDIA-optimized and tuned AI software  that runs the most popular machine learning and deep learning frameworks with maximized performance. NVIDIA DGX-2 can also be used for traditional HPC workloads to deliver theoretical peak performance of 130 TFLOPS.
Installation
NVIDIA DGX-2 installation went smoothly. It weighs 180 kg and requires a server lift to install it into the rack cabinet. After several hours of updating all system components and performing stress tests, IT4Innovations could start to run calculations. The DXG-2 comes with pre-installed Docker environments. The most widely used AI frameworks and HPC applications tuned for the system could be easily download from NVIDIA GPU Cloud.
More information about NVIDIA DGX systems you can find https://mcomputers.cz/en/nvidia-dgx-systems/.
https://mcomputers.cz/wp-content/uploads/2019/03/DSC_9995.jpg
3623
5240
Petr Plodík
https://mcomputers.cz/wp-content/uploads/2020/07/Logo_M_computers_bez_claimu_RGB_logo-2.png
Petr Plodík
2019-03-04 19:22:29
2019-09-11 21:50:21
NVIDIA DGX-2 at IT4Innovations